What can I expect as a participant at an event?
Hello and Welcome! You are likely on this page because you are attending an event where I will be the Active Listener and/or curious what I do as an Active Listener. Welcome and here are the main highlights:
Active Listening is an on-call, peer-to-peer service to provide emotional support at an event. Sometimes emotions arise during tough conversations, creative practices like writing, art making, or films can bring up feelings and you may want to talk to someone – that is why I am a part of the event.
What I do includes listening or just 'being with' you, even if it means just sitting in silence, if that is what you need to process feelings.
We have 20-30 mins together so that everyone involved with the event has a chance to access this service.
I have lived experience and not a mental health professional.
If you want support from a mental health professionals, visit Resources.
For Crisis and Non-Crisis phone lines (see below section).
I will be available during times stated at the event.
This is an optional service provided to you by the organizers of the event.
Sometimes it can be intimidating to reach out to someone you don't know or you may be curious as to what this is, as it is quite new to event planning. I created this page to welcome you into the space we create together.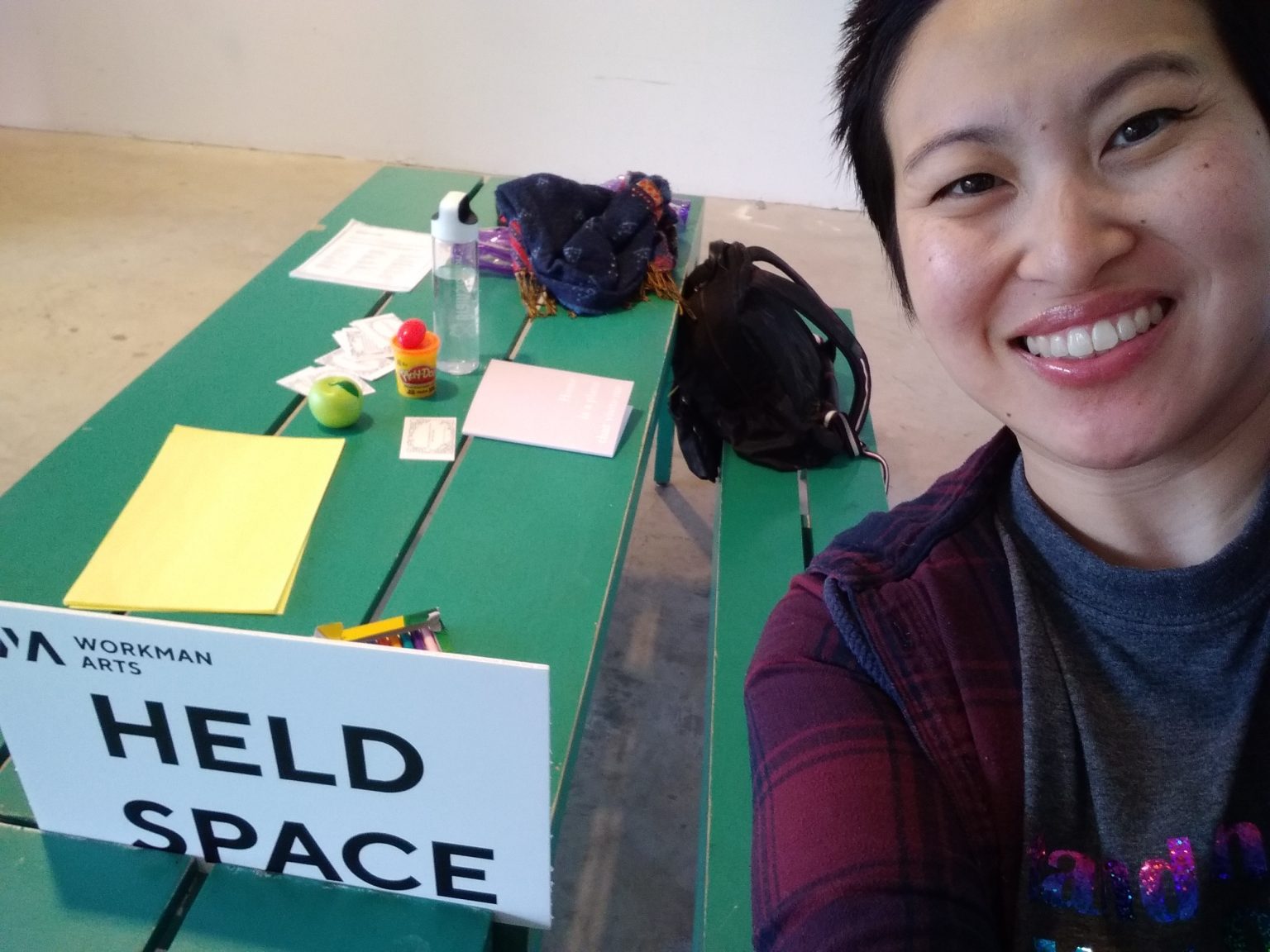 In-person Active Listener during Being Scene 2020 festival.
"Amanda exudes compassion, consideration and thoughtfulness in all of the support work they do. Whether it is supporting in-class art training programs for artists with lived mental health or addictions experiences or providing emotional support on the phone or by text to patrons of our public programs, festivals or exhibits, Amanda holds space with gentleness and presence. They have an ideal demeanour for providing peer emotional support - reflexive, attentive, curious, composed, professional, creative and insightful. They connect quickly and easily and immediately convey a sense of reassurance. Their thoroughness, organization and thoughtfulness make them a dream to work with at any level. At Workman Arts, we invite open and honest dialogue in our programs, and that can include heavy or intense moments. I know our participants and audiences are in good hands when Amanda is involved."
Amanda (they/them) is a non-binary, neurodiverse, Chinese-Canadian artist and active listener. They are a settler in Tkaronto, which is where their resources, if desired, are based. Want to know more about Amanda?
Each person is responsible for their own well-being, the Active Listener is there to support them in this transition. 
When you reach out (by text, phone or email) I will respond when I am not with someone else. My information will be provided by the event hosts.
If you prefer video conferencing, email me at my active listener email with this request and I will send a link to Google Meet. You do not have to download anything and it has closed captioning capabilities. It is not live, so the transcription is not always accurate. 
Note: I will not be able to answer you if you contact me outside the given time of the event. Please be patient, I may be with another person.
Expectations and How you can help me
A friendly person who wants to listen to you.

Amanda is not a mental health professional but a person with

lived experience

Let Amanda know if you are looking for them to listen in a particular way (ie. just listen, want reassurance or give resources, etc.) to best support your needs. 

All conversations with Amanda are confidential. Full transparency is that they may reach out to organizers of the event or other peers if support is needed. Conversations and names are kept confidential from these discussions.  

Provide mental health and community support, if needed. 

The service ends at the time allotted by the organizers. 

30 minutes is given to each person as this is a shared service with fellow participants.
Want to talk to someone later?
Non-Crisis/Warm Lines
Warm Line is a confidential & anonymous service for adults (18+). The Warm Line is not a crisis line.  Between 12pm – 8pm, Call 416-323-3721, Between 8pm – Midnight, Call 416-960-WARM (9276).
The Colour Project is a one-on-one anonymous text-based, stigmatization-free, peer-based support for individuals struggling with mental illness. The Colour Project is not a crisis line. 
Bean Bag Chat, Stella's Place app made for young adults and students to access online peer support, online counselling, and to view resources. The app (currently only available in Toronto) is downloadable on the Apple and Google Play Stores. 416-461-2345
Crisis Lines
When in need of someone to talk to. Operated by various agencies. Open 24 hours a day (unless otherwise indicated):
Toronto Distress Centres: 416 408-4357 or 408-HELP
Gerstein Centre: 416 929-5200
Spectra Helpline: 416 920-0497 or 905 459-7777 for Brampton and Mississauga residents
TTY: 905 278-4890; Languages: English, Punjabi, Hindi, Urdu, Spanish, Portuguese
Assaulted Women's Helpline: 416 863-0511; Toll-free: 1 866 863-0511
Kids Help Phone: 1 800 668-6868; Languages: English and French
Community Crisis Line Scarborough and Rouge Hospital: 416 495-2891 for 24/7 telephone crisis support.
Durham Crisis and Mental Health Line: 905 666-0483
Oakville Distress Centre: 905 849-4541 for residents of Halton Region (Burlington, Halton Hills, Milton and Oakville)
Find more here: https://www.createbeing.com/resources/
"Amanda has a big heart, great capacity for empathy, and an ability to remain deeply present. These, along with good boundaries (so I know they also know and model the importance of self-care!) make Amanda both a fantastic Peer Support and Active Listener. I can't recommend Amanda highly enough!"