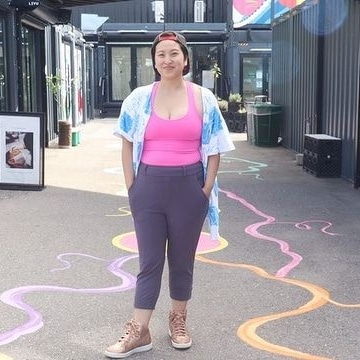 Amanda in front of mural for CreateSpace residency
Inspired to share their story during their Peer Support training this map was created to share Amanda's lived experience.
Amanda (they/them) is a neurodiverse, queer, Chinese, recovering perfectionist and empathic human. Their work aims to connect with others in one's search for self identity and understanding.  
Amanda has always been interested in life as a journey. Amanda's black and white, hand-drawn illustrations of Emotional Maps explore intangible feelings using maps as their commentary on how we are not born with a roadmap to life. They also paint boots and legs with acrylic, bringing to question assumptions of gender expression. Amanda is inspired by architecture, tourism and transit maps, 1950s pop art, mental health and gender. 
In 2020, Amanda refocused their time in pursuing their artistic endeavours. Wanting to prove that a career can be made as an artist, they started to share their work and have been published in Open Minds Quarterly and in the resilience anthology, Very Much Alive. They've also showcased their work in Being Scene, Gallery 1313 and Myseum of Toronto and Tea Base's Quarantine Qapsules. 
Amanda is a member of Workman Arts and is one of five artists featured in the partnership with the Art Gallery of Ontario. They completed their first public art, Life Badges, installation as a resident of Steps Initiative's CreateSpace. Amanda has been invited to lead workshops and artist talks at York University, Ryerson University, York Region Arts Council, Canadian Mental Health Association and ArtsUnite.
Currently, Amanda is the Art Cart Assistant and Art With Impact Canada's Movies for Mental Health Eastern Canada facilitator.
You can also see Amanda at festivals and workshops as an Active Listener and on the Lived Experience Research Committee at the Centre of Addiction and Mental Health (CAMH).They are also the founder of CreateBeing, a company that focuses on creativity and mental health.