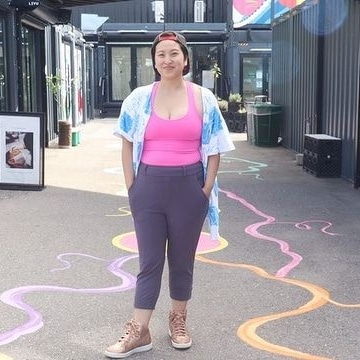 Amanda in front of mural for CreateSpace residency
Inspired to share their story during their Peer Support training this map was created to share Amanda's lived experience.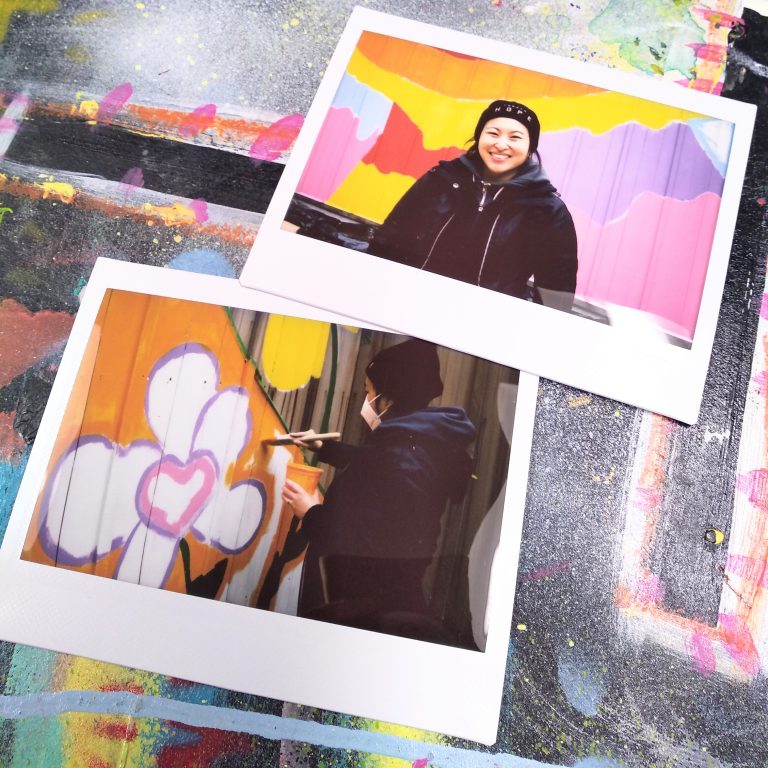 Two Polaroid photos of Amanda in front of their Centre for Addictions and Mental Health fence mural. 
My name is Amanda Lederle (they/them) and I consider myself a recovering perfectionist and empathic human based in what is known as Toronto, a traditional territory of many nations including the Mississaugas of the Credit, the Anishnabeg, the Haudenosaunee and the Wendat peoples.
I have always been interested in arts and crafts. It was only in 2020, as a reaction to the Covid-19 pandemic, that I decided to take the leap to experiment with being a professional artist.
I paint and draw to explore themes of simplicity, self-understanding and connection. I started my practice to express my experience with depression and anxiety and my many emotions to find ways to feel connected to myself. As I developed and shared my work with others, it led me to public displays of my work. This has connected me to many others in ways I only dreamed of.
My work aims to connect with others in one's search for self-identity and understanding. I have always been interested in life as a journey. My black-and-white, hand-drawn illustrations of Emotional Maps explore feelings using maps as a commentary on how we are not born with a roadmap to life and how life leads us to many different places. Since my journey as an artist, I have had my Maps published in anthologies, shown in group exhibitions and I've led artist talks. It led me to Steps Initiative's CreateSpace residency where I created my first public art mural and worked with leading Canadian companies to create other public works of art. I received a Toronto Arts Council grant, took part in the On Culture Days Artist-in-the-Library residency program, and Step Intiatives's Placemaking workshop with Urban Planners, all to share my creative process and encourage others to create Emotional Maps of their own.
In addition to my black and white works, I love to explore light and colours. I have a series of painted boots and legs in acrylic paint, bringing to question assumptions. In 2022, I had my first solo exhibition of these footwear paintings at Riverdale Gallery.
My interest in self-care, mental health and creativity spans outside of my art practice. I've led art-based mental health-focused workshops for teachers and students of all ages. I started being an Active Listene for Workman Arts, a multidisciplinary arts organization that supports artists living with mental health and addiction issues, of which I am a member. I then expanded my service to national festivals, conferences and workshops. Being an Active Listener has given me the opportunity to connect with people and be of service as a peer support.
When I am not making art, I am watching movies and TV shows and playing with my chinchilla.